(Auto)Bio - or, Everything I have is Ultimately from G!D:
A long journey.
Scores of narrow, swinging, rickety bridges over bottomless chasms along the way.
And I've fallen many, many times. To be honest with you, I fall every day. Some days I fall so much and so far I can't see the daylight. And it hurts so much. Every time.
But then I cry about it - sometimes silently, sometimes like a wild forest animal in the night - and I know my Creator is listening. I also know that the Rebbe ז״ל is there to pull me back up. Every time. All I have to do is take another step forward.
And that's what these songs are. Simple steps along the journey.
I used to be in a different band. I used to write different kinds of songs altogether. Most folks I know don't even call me Yudi because my name is part of the journey, too. When I'm with you - when we're singing and listening and learning together - all those bridges and bruises disappear and we can fly to places that touch the deepest parts of our souls. When Rebbe Nachman is journeying with us, bringing us closer to the Creator, I'm so happy.
Every time.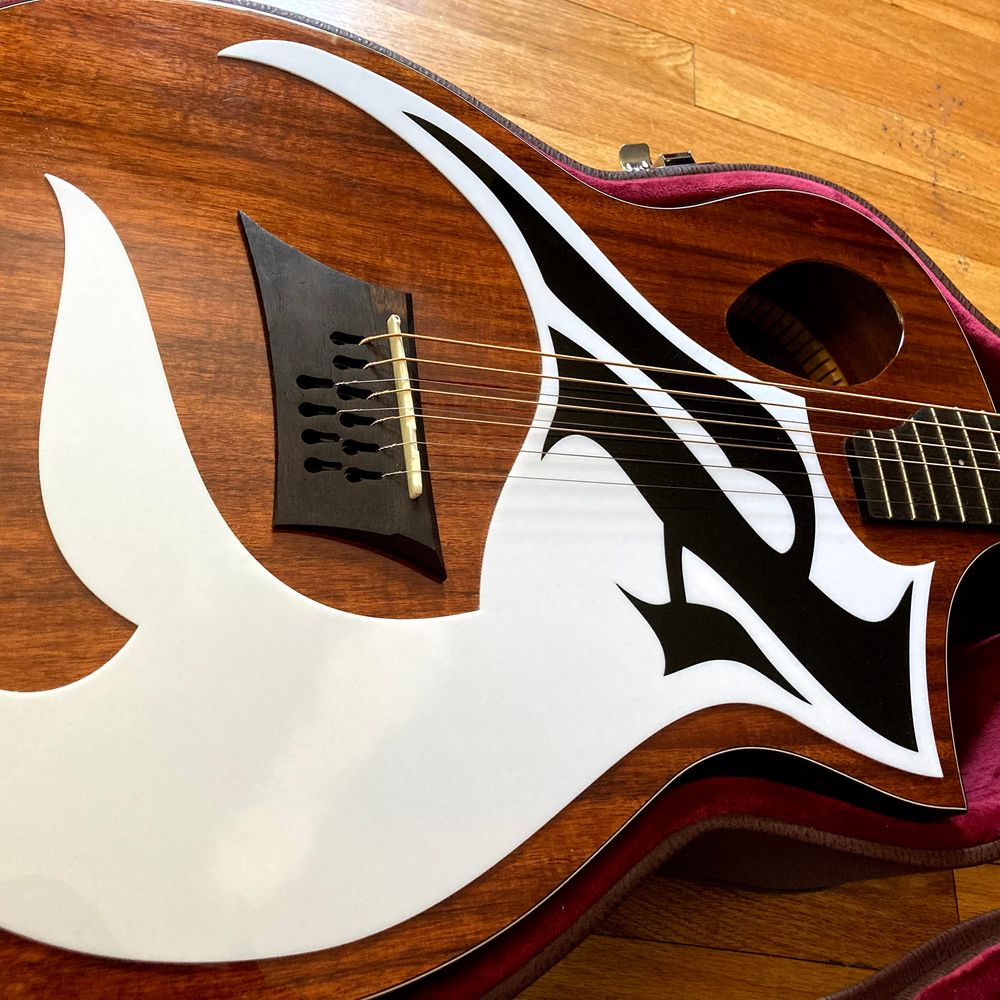 Alma & Dasi
Teaching #54 in Likutei Moharan charges us to be mindful of the existence of the World to Come on a constant basis. The Aramaic term he uses for "the World to Come" is "עָלְמָא דְּאָתֵי (Alma D'Asei)," and comes from kabbalistic literature. This particular teaching, like many of Rebbe Nachman's teachings, focuses at times on the power and importance of music in our lives.
We also have an important mystical teaching in the Gemara (Erechin 13b) that the stringed instruments which will be used in service of G!d in the messianic age will be able to increase our Western musical scale from seven notes to eight, adding a sound or note that we can't even fathom in our current existence. This is represented by the instruments' number of strings increasing from seven to eight. The Gemara continues, stating that in the World to Come, that range of audibility will increase even further, all the way to ten strings.
In the hopes of being able to put Rebbe Nachman's teaching into practice as much as I can, especially when playing music in service of my Creator, I wanted to represent these Gemaras in my instruments. The guitar I play is capable of being strung with ten strings. Every time I hold it, I'm reminded of the World to Come. However, I only string it with eight strings, because I know that Moshiach is almost here. 
Also, in case that wasn't enough, I named my guitar 'Alma.' 
The ukulele is, I believe, an instrument capable of great holiness as well. It's already strung with four strings, which I imagine can represent the "four worlds" in kabbalistic literature. Also, the four letters in one of G!d's holy names. There are many instances where the number four appears as the Torah guides us in life. This too helps me remember the World to Come when I play. 
So, I named my uke 'Dasi.' 
You might also notice a unique black and white pickguard design for the face of my guitar. This is based on another well-known mystical teaching found in Medresh Tanchuma that the blueprint, so to speak, for the creation of the universe is a supernatural Torah made from letters of black fire upon a surface of white fire. My pickguard features the letters "א" in black and "ש" in white, which together spell the Hebrew word for "fire," אש (aish). I also tried to make it look kind of like fire. 
In order to relate this medresh to the teachings above, let's turn once again to Rabbeinu ז"ל. When speaking of his own teachings and the reincarnation of his unique soul, he said, "מַיין פַייעֶרְל וֶועט שׁוֹין טְלוּעֶן בִּיז מָשִׁיחַ וֶועט קוּמֶען  (My fire will burn until the coming of Moshiach)." This statement is so deep that I won't pretend to have even the slightest understanding of it. 
However, there's help in the teachings of Rebbe Nachman's foremost student, known as Reb Noson. The story goes that after a long and painful search for the right person to be his enduring rebbe, Reb Noson found himself in Breslev. It's an absolutely remarkable story that I won't try to fit here. Suffice it to say that after realizing his true purpose once he met with Rebbe Nachman, Reb Noson would go alone to the Bug River and cry out to G!d in prayer, "A fire burns in Breslev! Burn it in my heart!" (Breslov oral tradition) 
The fire of which Reb Noson speaks is one I feel close to as well.  I may never understand it as deeply or as fully as him but, as anyone who's merited to have been touched by Rebbe Nachman's teachings might say, I can understand it on my own level. At least a little bit. And a little bit is also good.
The Shtender
Authenticity is a strange thing. But being authentic in my music and my service of G!d is extremely important, as Rebbe Nachman emphasizes over and over again (e.g. Likutei Moharan I, 9:2). The question is how to walk in the world with the necessary truth and authenticity?
The world may tell us that we need to go on a journey of self-discovery. That we need to go out and "find" ourselves. That this kind of search is a valuable and normal, even healthy, way to spend our days. What you're not likely to hear these days is something Rebbe Nachman says countless times (e.g. Likutei Moharan I, 7:3). Maybe it's controversial, but I believe we all need someone else, someone outside ourselves, to tell us who and what we really are. We each need what Rabbeinu ז"ל calls a Tzaddik Emes - someone we can each recognize as being truly and authentically more divinely attuned and connected than ourselves - to guide us in life. Learning this, and finding it to be so incredibly right, was terrifying, completely liberating, humbling, and deeply empowering.
Truth is, I want to be connected to the Tzaddik. Truth is, I want this music to be authentic.
Looping never felt right, and no matter how much I practiced I never seemed to get any good at it. Generally speaking I have nothing against synthesizers (I've used them in older recordings many times), but they're synthetic by definition and my goal now, as I said, is authenticity. They don't feel appropriate for these songs. Straight acoustic gigs are great, but the Creator gave me other talents to use in holy service as well. After the better part of a year of learning, introspection, practice, experimentation, and a tremendous amount of Heavenly assistance (and some design and build assistance from my father), I merited to have developed "the Shtender," which holds the technology behind the sampling and effects you hear at a live performance of Yudi and the 50 Gates. What I'm calling my "sound" is really a combination of what some might call a vibe or an aesthetic, together with a practical technique for creating solo musical arrangements in a live performance setting. Partly that's because I believe that in the end music is - and ought to be - a shared live, in-person experience. And partly it's because I try to be as mindful as I can about it. For example, live-sampling the percussion:
 Viduy: In place of a kick drum what you hear is a modified sample of my fist lightly striking the left side of my chest, which is a traditional gesture repeated in confession to G!d. I'm knocking down the walls that have been built up around my heart a tiny bit with each beat of the kick drum.

Clap: In place of a snare drum what you hear is a modified sample of my hands clapping, right hand down into the left, which has kabbalistic connotations. Mystically speaking, with each hit of the snare I pray that the world becomes ready to accept a tiny bit more divinity.

Kiss: In place of a high hat what you hear is a modified sample of me kissing my two front tzitzis, which is also something that's traditionally done a few times during prayer. I hope with each high hat hit that G!d sees how much I want to be closer to my holy Source than I am right now.

"Pshhhh...":  In place of a crash cymbal what you hear is a modified sample of a sound you might hear when an important, meaningful, poignant, or otherwise powerful idea in torah thought has been introduced. After all, this whole musical project is intended to crash just such torah teachings from our tzaddikim a tiny bit more into all our consciousnesses.
A Voice
Rebbe Nachman insists that the instruments mentioned above be whole, both physically and spiritually, if they are to be used in service of the Creator (Likutei Moharan I, 54:7). How much moreso, then, must that be true of my singing voice. Rabbeinu ז"ל spoke often and emphatically of how important a singing voice is in service of G!d (e.g. Likutei Moharan I, 3), even if a person doesn't have an especially pleasant singing voice (Sichos HaRan #273). While "beautiful" might not be the best descriptor for my voice, I can still use it for a holy purpose. In fact, I should use it that way. It's precisely this kind of encouragement that has helped to fuel the Yudi and the 50 Gates project. It's about the songs, and the songs are for G!d. But it's really not worth the effort if my voice isn't 'whole.'
And that's where you come in.
As I mentioned, I think this music (most music?) is best when performed live and it should be experienced that way whenever possible. In a live, in-person setting, where everyone present is connecting through music, it's possible to focus on the positive points of each individual in attendance. No human being is perfect, but we've all done good things in our lives. For every good thing you've ever done a positive point, a little bit of spiritual goodness, is brought to light from your very soul (Likutei Moharan I, 282). So, is my voice 'whole' one hundred percent of the time? Absolutely not. But I'm trying. And when you bring your many G!dly sparks of light with to the show, the ones that stay with you after you've done something truly and intrinsically good, each spark rises to support a different note in the songs I sing (ibid.). Making and maintaining a physically and spiritually 'whole' voice can be hard work, but it's a lot easier with your help. All I ask is that you bring your many sparks of goodness with you to the show, and maybe you'll find some in me too.